Publication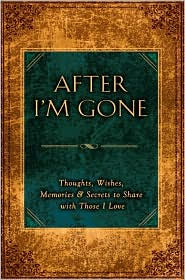 After I'm Gone: Thoughts, Wishes, Memories, and Secrets to Share with Those I Love
by Susan Davies
A beautiful keepsake that families will treasure, After I'm Gone is a do-it-yourself Last Lecture for your loved ones, in the tradition of bestselling fill-in journals like All About Me.
Coping with the loss of a loved one is always difficult, but some of the pain can be alleviated by understanding the final thoughts and wishes of the person who has passed. After I'm Gone gives anyone, at any stage of life, the opportunity to record a unique personal history, to shape a lasting legacy, to leave behind details regarding final wishes, and to help loved ones through the grieving process.
Through a series of more than two hundred questions and prompts, readers examine the way they wish to be remembered as they delve into their memories and past, their values and beliefs, their favorite things, cherished possessions, joys and regrets, and lessons learned that they want to share. There is also room for special messages for loved ones, as well as practical and specific instructions for memorial services and locating important documents. Filling out the journal will help clear the conscience, reveal long-kept secrets, preserve little-known family history, and pass wisdom and lasting insight to a new generation, leaving the journal owner with the peace of mind that nothing was left unsaid. The result is a thoughtful book to share with family and friends, filled with some of the most meaningful messages they'll ever read.